DMX Signal Transmitter
By PaulStoffregen
2 layer board of 1.05 x 1.03 inches (26.7 x 26.1 mm).
Uploaded: November 25th, 2017 03:16.
Shared: December 19th, 2017 09:30
Total Price: $5.35

Long Distance Serial Under Harsh Conditions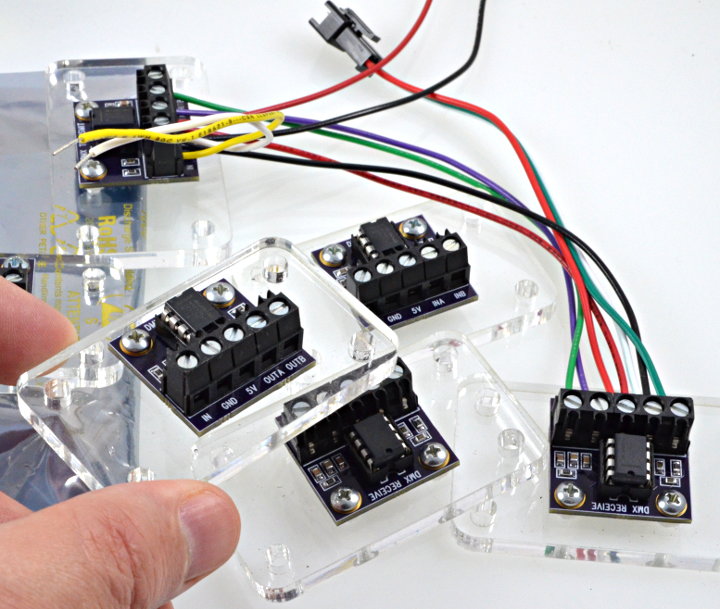 When you…
Long Distance Serial Under Harsh Conditions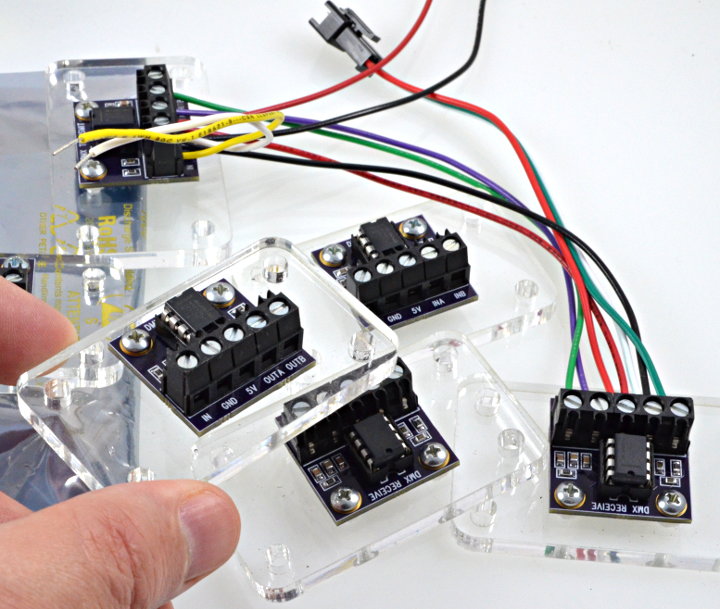 When you need to send a digital signal over a long distance in a noisy environment, this little DMX Signal Transmitter board is meant to be a "quick fix". Terminal block connections allow it to be quick added to an existing project, when sending an ordinary signal just won't work. On the other end, the DMX Signal Receiver Board is meant to receive the signal and turn it back into normal 5V signal.
Almost any type of serial signal may be used. WS2812B / NeoPixel data was the initial motivation for this board. Here are the first 2 boards being tested.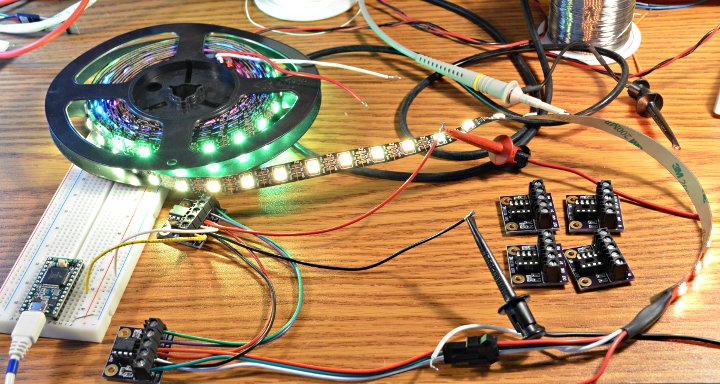 The transmitter is compatible with 3.3V signals, so this pair of boards also functions as a 3.3V to 5V level shifter.
Parts Placement Diagram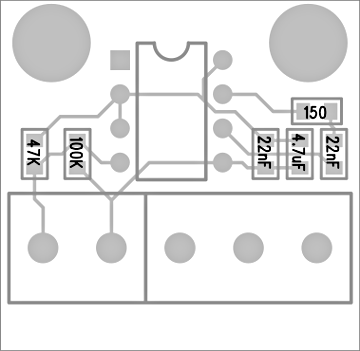 Bill Of Materials
All of the parts are available at Digikey.
1  MAX485                           MAX485EPA+-ND
1  DIP8 Socket                      AE9988-ND 
1  Terminal Block, 5.08mm, 5 pin    ED2583-ND, 609-3939-ND
1  Resistor, 150, 0805              311-150CRCT-ND, YAG3694CT-ND, P150CCT-ND
1  Resistor, 47K, 0805              311-47.0KCRCT-ND, YAG3363CT-ND, P47.0KCCT-ND
1  Resistor, 100K, 0805             311-100KCRCT-ND, YAG3359CT-ND, P100KCCT-ND
2  Capacitor, 22nF, 0805            490-1644-1-ND, 399-14577-1-ND, 445-6949-1-ND
1  Capacitor, 4.7uF, 0805           490-5422-1-ND, 1276-1065-1-ND, 490-3335-1-ND

How to use Digikey's website to find alternate parts when any of these aren't in stock.
Very inexpensive terminal blocks can also be found at Aliexpress or Ebay vendors, if you have time to wait for postal mail from China.
For DMX protocol and Serial data at 250 kbps/sec or slower, the MAX487 chip can be used. It has slew rate limiting, which improves the signal when used over low quality cables. But for WS2812 LEDs and fast serial (over 250,000 baud) the MAX485 or similar chips must be used.
First Actual Use
This is the Three Wishes Art Installation, featuring flame effects and WS2812 LEDs. More details can be found on this flame sensor page.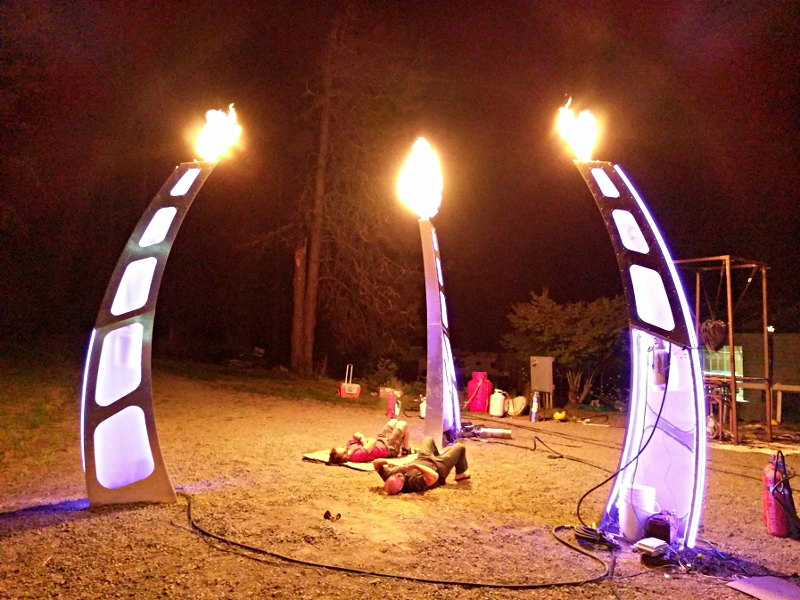 In this first photos, we tested in Martin's driveway. The WS2812 data signals were generated by a Teensy 3.2 and OctoWS2811 board in the first of three units. Signals were sent down 25 foot cables to the other two. Amazingly, this worked great when testing in the driveway.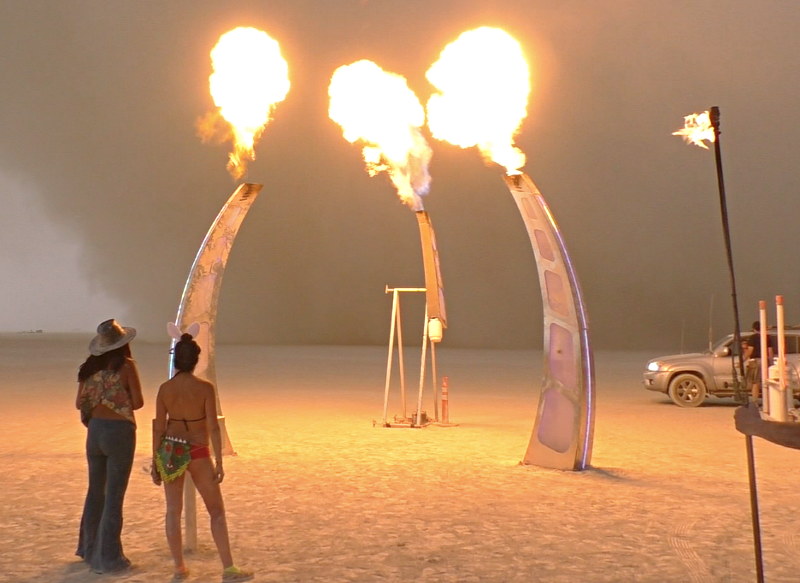 When the project was installed on the Playa at Burning Man, many challenges came up. The LEDs in the other two units went crazy. It turned out we had never tested in the driveway with the battery charger connected. When they removed the charger, the LEDs worked great, but running only from batteries and regularly connecting and removing the charger added yet another task to any already quite challenging project.
After the burn, we added two of these transmitter near the OctoWS2811 board, and receivers inside the other 2 units. Now all the LEDs work great, even while the charger is connected and recharging the batteries.
Embeddable link to order this shared Project
---
Follow us
© Copyright 2020 Oshpark LLC
|
Privacy