OSH Park
HydraESP32 HydraBus v1.0 Shield for ESP-WROOM-32/ESP-32S V1.1 Rev1.0 (Tested)
HydraESP32 HydraBus v1.0 Shield for ESP-WROOM-32/ESP-32S V1.1 Rev1.0 (Tested)
by
hydrabus
.
2 layer board of 2.37x1.47 inches (60.22x37.24 mm).
Shared on October 25th, 2016 20:54.
HydraBus v1.0 Shield for ESP-WROOM-32/ESP-32S V1.1 Rev1.0
HydraBus Shield / Breakout board for ESP-WROOM-32 or ESP-32S.
This shield can be used with or without HydraBus board, you can even cut HydraBus specific right side (on the line) to have a tiny ESP-WROOM-32 breakout board.
It is not mandatory to solder the components on this shield in order to use it, you will just need to connect +3v3 on VCC Pin header
New features versus previous version V1.0 Rev1.1:

Added LDO (TPS73633DBVR SOT23-5) to convert 5V(VUSB) to a clean VCC (+3.3v) for ESP32 and which can be enabled by an HydraBus Pin or with a JUMPER on J7 (which connect +3.3V from HydraBus to EN of the LDO)
Added VCC connector in order to measure ESP32 current/power consumption (if not used to measure current just add a JUMPER on VCC to power the ESP32)
Added J6 connector to have access to ESP32 SPI FLASH IOs (now all pins are available)

This shield can be used only on bottom of HydraBus board (in order to use other shields on top of HydraBus)

The HydraBus board is a small (60mm x 37mm) and low cost, multi-tool extensible board with STM32F405 Cortex M4F 32bits MCU @168MHz with a fully open source firmware hydrafw and full online documentation hydrafw wiki

The ESP-WROOM-32 is a low-power 32-bit 240 MHz dual core MCU Wi- Fi+BLE combo module that highly integrates TCP/IP network stacks, 12- bit ADC and HSPI/SDIO/UART/PWM/I2C/I2S interfaces. See ESP32 Overview, ESP-WROOM-32 link/info, Espressif Products Overview including ESP-WROOM-32 PDF

Design based on official esp_wroom_32_datasheet_en.pdf (September 26, 2016)
BOM:
| Qty | Value | Device | Package | Parts | Description |
| --- | --- | --- | --- | --- | --- |
| 1 | - | ESP_WROOM_32 or ESP-32S | ESP-WROOM-32 or ESP-32S | U1 | Espressif ESP-WROOM-32 or ESP-32S Module |
| 1 | - | TPS73633 | SOT23-5L | U2 | Texas Instrument LDO |
| 1 | 2.2uF | CAPACITOR_NPOL-0603 | C603 | C1 | SMD Non-Polarized capacitor |
| 1 | 1uF | CAPACITOR_NPOL-0603 | C603 | C2 | SMD Non-Polarized capacitor |
| 2 | 100nF | CAPACITOR_NPOL-0603 | C603 | C3, C4 | SMD Non-Polarized capacitor |
| 2 | 10K | RESISTOR-0603 | R603 | R1, R2 | SMD Resistor |
| 1 | - | | HYDRABUS_SHIELD_M2X7 | J1 | 2x7 Pin header |
| 4 | - | | HYDRABUS_SHIELD_M2X10 | J2, J3, J4, J5 | 2x10 Pin header |
| 2 | - | | HYDRABUS_SHIELD_M1X6 | J6, SWD_DEBUG | 1x6 Pin header |
| 2 | - | | Jumper - 2 Pin | J7, VCC | Jumper 2 Pin |
| 2 | - | | CON_HEADER_1X02-PTH | J7, VCC | 1x2 Pin header |
Note1: LDO U2 can be also replaced by MIC5319-3.3YD5-TR (Microchip)
Note2: If you do not want to solder those components you can avoid them and directly connect HydraBus 3v3 to VCC Pin near J5 marking
Tested with success with an ESP-32S Module from Ai-Thinker (it is recommended to use official Espressif ESP-WROOM-32)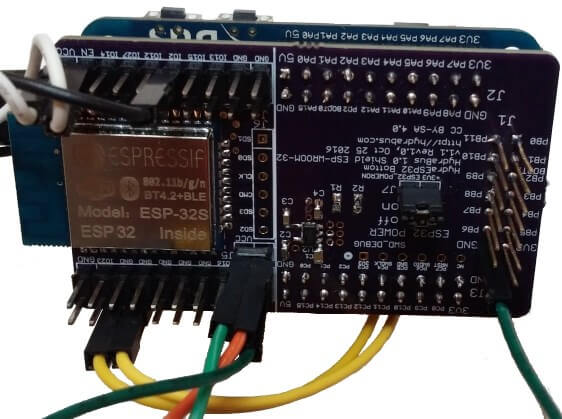 For more details see the project on GitHub hydraESP32